2009 in Review, by Rhythm 'n QUE
2009 was by any measure a landmark year for Rhythm 'n QUE, the kind of season dreams are made of. Quick out of the gate with Grand Championships in Tempe, Hesperia and the historic double KCBS/IBCA wins at Stagecoach, we set a goal to earn automatic entry into the Jack Daniel's World Championship Invitational by winning seven qualifying GCs. After a long, grueling summer this goal was realized at Fairfield, California, where one contest at the West Coast Championships was the seventh win -- a feat attained by only five teams in the nation that year.
2009's final tally for Rhythm 'n QUE included 26 contests, earning 7 Grand Championships and 7 Reserve Grand Championships. The team ended the season ranked 16th in the nation by KCBS amongst over 4,000 competing teams, finishing 8th in chicken, 27th in ribs, 21st in pork and 16th in brisket.
| | |
| --- | --- |
| Grand Championships: | |
| Tempe, AZ | Hesperia, CA |

At our second visit to the Jack, we were thrilled to win first place in dessert, with a perfect score from all 6 judges. It was RnQ's first perfect score ever, and no better place to do it! The last-minute accidental potluck dessert hit a home run, and it will always be one of our treasured Jack memories.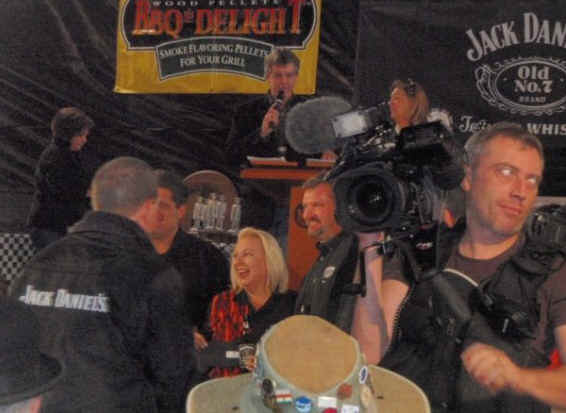 The culminating honor, of which we are especially proud, was to repeat as 2009 CBBQA Team of the Year for the second consecutive year, in competition with a full field of worthy teams. This award is particularly meaningful to Alexa, a California native.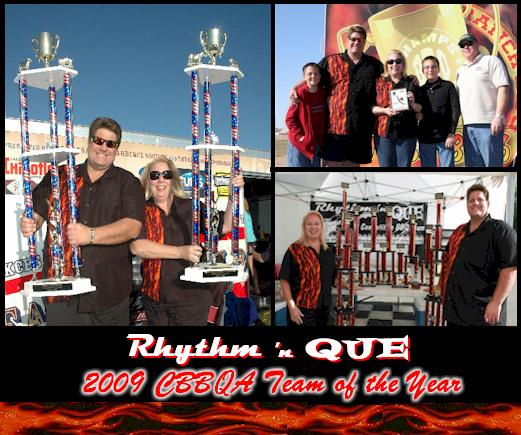 We extend heartfelt thanks to our sponsors, without whom this season would not have been possible, and to every one of the teams that made us want to go back out week after week all year long.

Our goals for the 2010 season are to continue to grow and improve as a team, and to enjoy the friendships we've made through barbeque. At every contest we attend, we have the company of friends made in smoke, and the prospect of greeting new friends. See you out on the campaign trail!